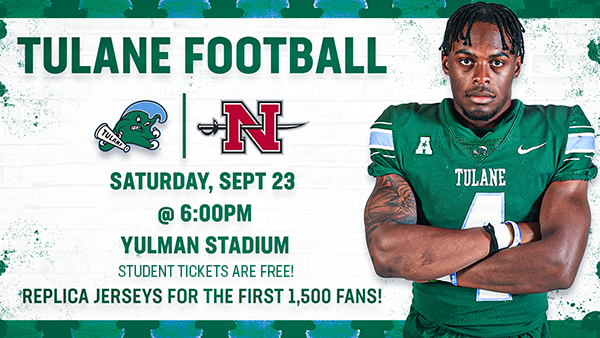 Tulane Football hosts Nicholls next Saturday, Sept. 23 at 6 p.m. in Yulman Stadium and there are 4,000
FREE
student tickets available for this game.
Starting this game and for every Green Wave Football home game moving forward,
students will need to complete an online request form to claim your student ticket in advance of game day
. See below for details.
Claiming your ticket:
An email with a link to the ticket request form for the Nicholls game will be sent to all Tulane students on Monday, Sept. 18 at 6 p.m. CT.

Tickets will be awarded to students on a first come, first served basis until the allotment of 4,000 free student tickets are claimed.

Students selected to receive a ticket will be sent their digital ticket via email on Thursday of game week.

Those not awarded tickets will be notified via email on Thursday of game week as well.

Each home game week, the ticket request form will be emailed to students on Monday.
Game Day Procedures:
Please download your digital ticket to your phone wallet before coming to the stadium.

On game day, students must enter through the designated student entry on Brown Field in front of gate C of Yulman Stadium.

Students will have to scan their digital ticket and show their Splash Card at the gate when they enter.

If you claim a ticket but do not use it at the game, you will lose your opportunity to claim a ticket for future games

, so only claim a ticket if you plan to attend.

If you do not receive a student ticket, please do not come to the stadium as entry will not be allowed without a pre-claimed ticket.

Student guest tickets with seating in the student section will not be available the remainder of the season.
Look out for the email with the form link on Monday and please contact the Tulane Ticket Office if you have any questions. Roll Wave!